TV that does it all
Three simple words: Unrivaled viewing experience.
That's all we need to sum up our ideas behind new 2018 QLED TV. No more
distractions. Just pure entertainment for your eyes.

The TV you love
with nothing in the way
Gone are the days of everyone huddling to watch TV on a small and dark screen surrounded by clutter. Samsung has accomplished the feat of evolving TVs to allow comfortable viewing even from a distance with its Big Screen and one billion colours as if you're seeing it in real. Also, you can now manage all your devices more convieniently with one remote control and interact with TV just with your voice. Even with all these accomplishmetns, new 2018 QLED TV will blend right in with your home interior thanks to Samsung's endless efforts with design craftsmanship. No.1 for 12 consecutive years in global TV, ⓒFuturesource Consulting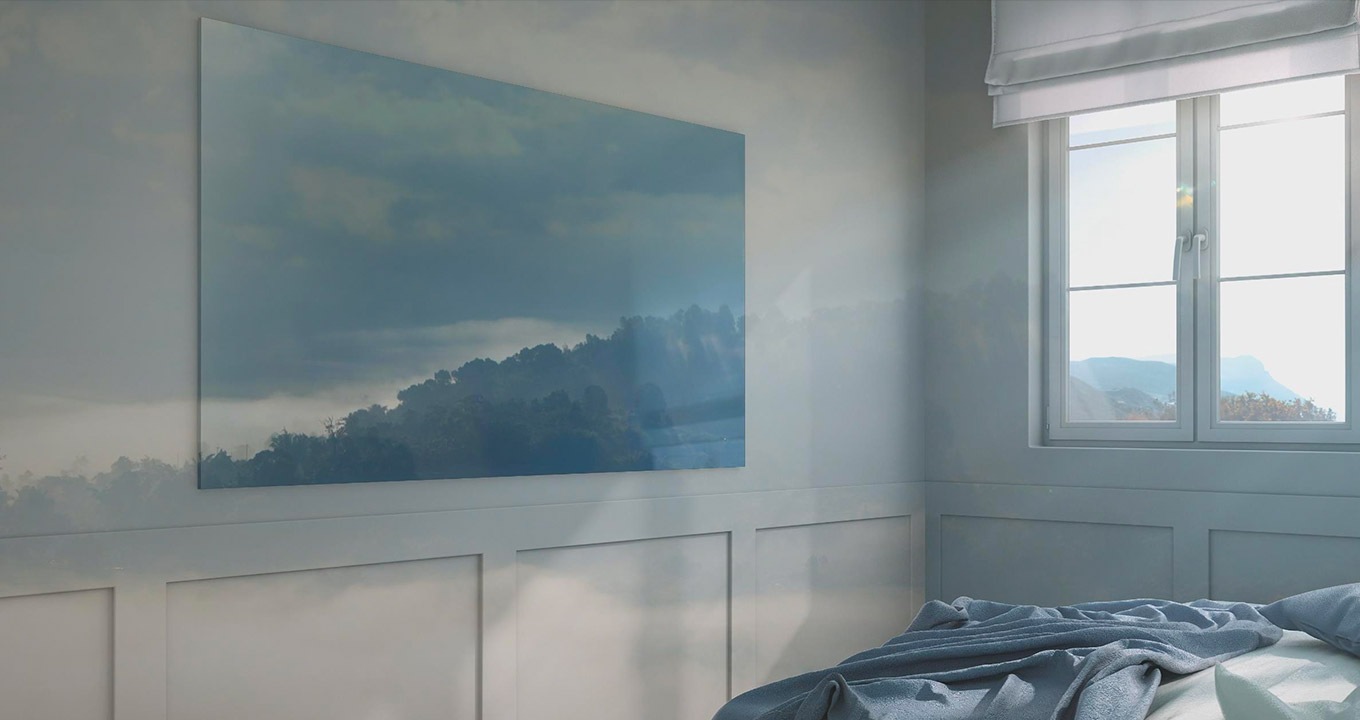 "Our solution: use only the best
What makes a perfect TV? All the outstanding features consumers want, combined with the most advanced picture technologies. Our answer is new QLED TV. Samsung new 2018 QLED TV will give you the surprisingly amazing experiences in your daily lives, from our best picture quality yet to intuitive smart features and beautiful design you can be proud of."
Over a billion shades of colour
Q Colour
We took the simple process of turning light into colour, and made it something truly special with our ground-breaking Quantum dot technology. By adding light into the mixture, we made a billion colours possible with a colour volume of 100%.
At any time,
in any light
Q Contrast

Think about all those times you just couldn't see the TV screen. Sometimes there's just too much sunlight in the room. Sometimes, not enough. New 2018 QLED TVs put those annoyances in the past, with deeper and darker blacks that highlight every single detail. Now it doesn't matter how much light there is in the room.


See
beyond the
shadows
Q HDR Elite
(powered by HDR 10+)
Sometimes you just can't see what's on your own TV screen. Especially when it's a dark scene with some shadows. Q HDR was created by our combination of expertise and HDR10+ technology to give you a wider range of brightness and contrasts to bring all the picture nuances to life.
See the picture, not the TV
Our design philosophy is to keep distractions hidden for you to see only pictures. So we got rid of the common things that distract us most such as messy cables and even Black screen will no more disctraction to your home. Freedom of space, freedom of pure enjoyment.

No more black screen
Magic Screen
With our new Magic Screen, you can elevate your living room with decorative content, useful information, and your own photos. You won't notice the TV on the wall as it blends perfectly with your decor, and it can even play a bit of light background music.

All you need is one
One Remote Control
One single, sleek remote to control your connected devices. Stop fumbling around for the right remote, and spend time watching more doing less. And you'll automatically see the device name on screen. Finding the connected device just got so much easier.
* Actual product and remote control may differ from image shown.
* Compatible devices only.

SmartThings,
endless possibilities
SmartThings
SmartThings will help you to get seamlessly connected with a broad range of smart devices and appliances, from your fridge to your mobile, giving you an intuitive way to take full control of your home, and beyond. Experience the truely connected life.
* Smart service and GUI(Graphic User Interface) may vary by model and region.
* SmartThings compatible devices may vary by region.
Promotion will run from 4th June 2018 to 6th June 2018.
The estimated delivery dates for the QA65Q9FNAKXXM, QA65Q8CNAKXXM, QA55Q7FNAKXXM and the UA55NU8000KXXM are as follows:
Peninsular Malaysia: 26th June 2018 onwards
East Malaysia: 3rd July 2018 onwards
Free items only available during launch offer from 4th June 2018 to 6th June 2018.
Senheng reserves the right to change the delivery schedule to the customer subject to stock availability.